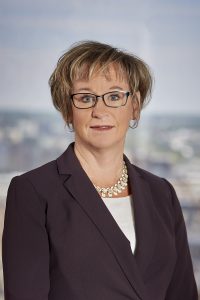 Lindner & Marsack, S.C., one of the region's most respected and long-standing management-side labor, employment and worker's compensation defense firms, today announced that Attorney Sally Piefer has been recognized as a 2021 Notable Women in the Law, an annual showcase of top female attorneys in the region by BizTimes Milwaukee.
"Sally embodies all the professional skills and personal traits that define a top-notch attorney, colleague and role model," said Oyvind Wistrom, President of Lindner & Marsack. "Her work and her presence elevate our entire team as we help employers in Wisconsin and across the country navigate their toughest legal challenges."
Piefer is a shareholder and a member of the Board of Directors of Lindner & Marsack. She has extensive experience representing employers in a variety of employment matters, with special emphasis in employment litigation, employment counseling and compliance issues and employee/supervisor training.
Piefer speaks frequently on employment-related topics with a variety of organizations throughout southeastern Wisconsin and is a member of the Wisconsin Bar Association, the American Bar Association, the Waukesha County Bar Association and the Society of Human Resources Management. She has also been honored among "Women in the Law" by the Wisconsin Law Journal and received special recognition from the Waukesha County Community Foundation's Women of Distinction.
Notable Women in the Law honorees are nominated by their peers at work and in the community. To qualify, nominees must be based in southeast Wisconsin; serving in a senior level role at their firm and in leadership positions outside of their own organization; acting as a role model or mentor to colleagues and associates; and making a significant contribution to advancing workplace equality at their own workplace and beyond.