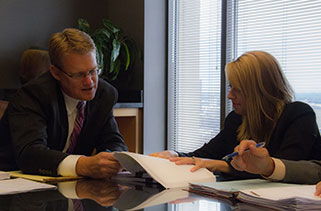 Representation Management Can Trust
Lindner & Marsack, S.C. knows a lawsuit can be, at best, a serious distraction for a business. Lawsuits of all kinds, from disgruntled employees suing for wrongful discharge to sexual harassment allegations, take time and money away from the bottom line.
The labor and employment law attorneys of Lindner & Marsack, S.C. stand firmly on the side of management, defending employers and their managers when litigation is unavoidable. The firm's litigation team is not only highly experienced, but innovative and aggressive in defending employer rights to achieve desired results.
Lindner & Marsack, S.C. and its team of experienced business litigators have represented employers throughout the country in state and federal trial and appellate courts in all types of labor and employment-related disputes including:
Discrimination and harassment claims (Title VII, ADA, ADEA, WFEA, etc.)
Whistleblower and retaliation claims
Non-compete and trade secrets disputes
Employee leave of absence disputes
Wage and hour disputes
ERISA/employee benefits litigation
Contract and labor disputes
WARN Act and reduction-in-force litigation
Multiple-plaintiff and class actions
Constitutional due process and First Amendment retaliation claims