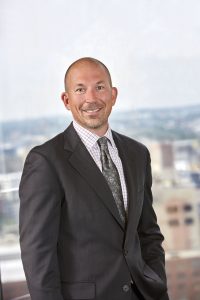 Lindner & Marsack, S.C., today announced that Daniel Pedriana has been nominated as a Fellow of the College of Workers' Compensation Lawyers.
According to the College's Board of Governors, who approved Pedriana's nomination, election as a Fellow represents the recognition by your colleagues that you have distinguished yourself as an outstanding professional. It recognizes that an attorney has made a sustained contribution to the field and meets the College's standards of integrity, professionalism and character.
"I'm honored to be recognized by the highly-regarded College of Workers' Compensation Lawyers," says Pedriana. "In addition, I'm humbled by the company I'll join as a Fellow of the College – attorneys who demonstrate the highest level of professional expertise as well as a strong commitment to ethical standards, integrity and leadership."
Pedriana is a shareholder and member of the Board of Directors of Lindner & Marsack. His practice primarily focuses on defending workers' compensation claims for the insurance industry and self-insured employers. He also frequently handles related employment and subrogation issues. Pedriana lectures and speaks on workers' compensation law, along with related labor and employment law and subrogation topics, in Wisconsin and throughout the United States.
A special induction ceremony and dinner for new Fellows will be held at the Westin New Orleans Canal Place Hotel on Saturday, March 28, 2020.