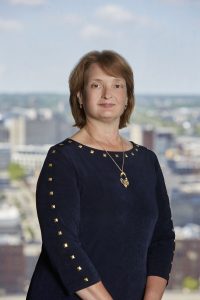 Lindner & Marsack, S.C., announced today Laurie Petersen has been named as the new president of Worklaw® Network.
Petersen is a shareholder and member of Lindner & Marsack's Board of Directors. Her labor and employment law experience covers a broad spectrum of matters for diverse business organizations in a range of industries.
"It's my hope that my extensive experience in all aspects of employment law will position me well to lead the activities of my esteemed colleagues and peers in Worklaw® Network," said Petersen. "Employers today face complex legal considerations, and I'm honored to lead an organization that helps employers minimize their risks and navigate their challenges."
Worklaw® Network is a network of independent law firms that have formed a not-for-profit association for the professional exchange of information.  Worklaw® Network's rigorous membership recruiting standards offer employers a virtual "seal of approval."  Worklaw® Network member firms and their clients can utilize the resources of more than 350 lawyers, all of whom practice exclusively in labor and employment matters for employers. Collectively, Worklaw® Network members have over 34 offices in 27 U.S. states plus Canada and Mexico, and the network includes affiliate members in Australia, Europe, Asia and India. The network formed in 1989.
Petersen will serve a one year term as President until October 2020.